Did ya miss me? I know. I've been a bad blogger. It's not that I haven't had anything to say, just no time to gather coherent thoughts!
Quick summary of recent events:
- Kira turned three! We had her birthday party on Saturday and it was lovely. We had it at home, so it was just family and close friends (of course, that's almost 40 people right there). I think she really enjoyed it. She loved everyone singing to her and said "hooray" and "piiiiittttttty" a million times while opening her gifts. It was pretty low key and I was thankful for the chance for our old and new friends to meet each other. Pics later, when I steal them from someone else. As usual, Derek and I were too busy running around to take pics.
- Kira started school! She's in one of the blended classes. 5 typically developing kids and Kira is the third child in the class on an IEP. She's the youngest, the only girl, and the only child with Ds. The first week was a little rough, but yesterday she walked in like she'd been doing this for years. I think it's going to be a good fit for her.

- Other good stuff: We've had lots of chilling with family good times recently. Thanksgiving was lovely with Derek's parents. We spent the majority of the weekend in Shreveport with my parents and had a wonderful time. More on that (with pics!) later.

I've been busy crafting, crafting, crafting and want to share one project with y'all. I made this tutu and drawstring bag for mailing it in over the weekend:
I've donated them to the
Zoromski's
auction so that they can
get their daughter Lily home
. Lily is in an orphanage overseas. She is five years old with Ds and it is a miracle that she hasn't been sent to an institution, yet. Lily is a twin, her birth parents kept her biological sibling. You may not now it, but Michelle and Brian are also the parents of twins. Ruby's identical twin sister, Lydia, died at birth. As Michelle put it, they are a family missing a twin and Lily is a twin missing a family. Amazing.
Head over to
A Home for Lily
to check out all the cool items in the auction. I know Michelle, Brian, Karly, Braden, Ruby, and especially, Lily, would appreciate it!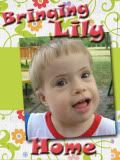 Grab This Button
And I promise to be a better blogger. At least, I will once I get laid off from Santa's Workshop.